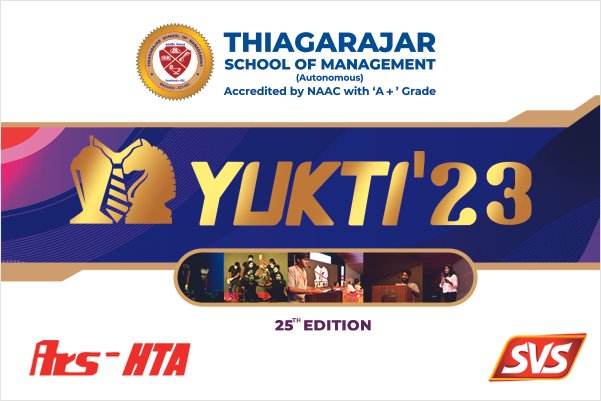 YUKTI (meaning strategy), TSM's annual business school summit, is one of the largest business conclaves in South India with more than 800 participants from various prestigious B-schools of India. The focus of YUKTI is to foster excellent relationships among the students of various institutions and to allow promising managers to prove their caliber, and power of persuasion. Students get the opportunity to share the dais with eminent personalities from the industry.
he last edition of YUKTI comprised 11 management events and 9 cultural events which were framed and designed exclusively to support the theme of sustainable growth in business and the community. The events are designed to encourage genuine talent. The events are facilitated by generous sponsorships from prestigious business houses, and top performing students are presented with awards. There is also a much-coveted prize for the best Institute, depending on the performance of individual students in the various management and cultural events.Some of the regular sponsors include TVS TYRES, BPCL, Hi-Tech Arai Ltd, Aparajitha, SVS group of companies, Anjali Oil Brand, etc.
The participants of YUKTI for each event are evaluated by external judges and internal judges in a fair and unbiased manner. We believe the participants will have a very good experience here. Our earlier editions of YUKTI have featured distinguished speakers who inaugurated the event with their electrifying speeches. One of the major attractions of YUKTI is that it is completely a student organized event, through which they prove their capabilities across different verticals of the event. The event helps to bridge the theory learning in classrooms and their practical applications. One of the most important examples is that students have to prepare a service blueprint for YUKTI; this idea has received immense appreciation from our esteemed guests. On the whole, we believe that this contest will be a great learning experience for the student community, and inculcate a passion to compete whole-heartedly, and put forth their best to try and win.