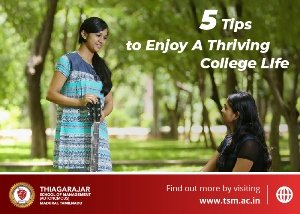 If you ask many people: If you could go back in time, where would you go? The most likely answer would be their college life. This answer depends on how much you enjoyed your college life. If you are reading this article, then you are probably about to start your college journey. College life is filled with countless opportunities to have fun while also gaining a wealth of knowledge. So, we are giving you 5 tips to enjoy a thriving college life.
Be In The Present
You may have a lot of expectations about college life. Simultaneously, fear and doubts will creep in your mind whether the college will meet your expectations. Don't overthink it. Your college life is going to be fun if you manage to make the right choices. Also, what we suggest is to be in the moment and get the best out of them. Be good in your academics and it's also important for you to explore your dreams, nurture your knowledge, participate in as many events as possible, and follow your passion. Don's worry about making mistakes in the process. It will all make you a better person and raise your standards.
Network
Networking is one of the important skills required to develop your standards quickly. It will help you learn skills, advance in your careers, increase access to job opportunities, build confidence, develop leadership qualities etc. So, if you join a well-reputed college, there will be a lot of college clubs and communities which are organized by your college seniors and alumnus. Make use of these communities and clubs because it will help you connect with great people.
Introduce yourself to your professors and staff in your department. Their experience and guidance will be highly resourceful for you to nurture.
Remember Academics
Studying and learning are two different terms. Learn as maximum as you can because you have dedicated your precious time for learning by joining the college. So, keep an eye on your academics. Having goals in your academics will help you be on track. Getting good grades will build your competent skills and increase your chances of employability etc.
Be More Than What You Expected To Be
Along with your good academics, you must make sure you are industry-ready. So, make use of resources like libraries, online courses, and complete various certifications. Develop your practical skills by attending in-plant training and internship, participating in hackathons, competitions etc. Also, showcase your knowledge in college symposiums.
Take Responsibility for All Your Actions
Remember "You are the master of your own destiny". So always take responsibility for your life and don't blame others for your mistakes. Take corrective measures, actions, and take complete responsibility. This attitude will make you a better person and will help you tackle all the challenges and hurdles life throws at you.