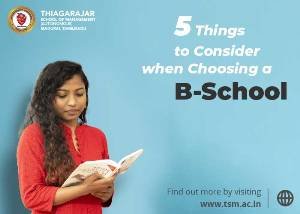 Business degrees are some of the most sought after degrees by students and aspiring entrepreneurs. This is due to the fact that business degrees like MBA offer a lot of job opportunities across many industries. This is why it is very important to select the right business school to pursue your MBA. The right B-School will equip you with all the right knowledge that is needed to survive in todays challenging business world. On the hand, selecting the wrong B-School could have serious repercussions on your future. But how do you select the right B-School for you. Well, these are the 5 things to consider when choosing your business school.
Faculty Expertise: You will want to choose a B-School that has well experienced faculty members who possess a lot of industry knowledge. Faculty members shouldn't have any problems in addressing important subject related questions and should be updated with all the latest trends. When you visit multiple B-Schools, be sure to strike up a conversation with the faculty members. This should give you insight into just how good they are
Infrastructure: It should come as no surprise that infrastructure should play a big part in choosing your B-School since you will be spending most of your day within the campus. You should look for a college with an infrastructure big enough for you to breathe. Small campuses can be suffocating. Have a look around the college campus. Visit the various class rooms, library, faculty rooms etc. to get a feel for the infrastructure. Ultimately it comes down to your personal preference.
Placement opportunities: The big reason students choose to pursue MBA or PGDM is the vast amount of job opportunities. Hence, a college, university, or B-School's placement partners should be one of your top concerns. Look at the placement success rate of the B-School as well as the various companies that come for campus recruitment. This could be the deciding factor in choosing your B-School.
Cultural Diversity: Most students are probably going to study in a different city or state. This could be due to various reasons. Hence, a B-School's cultural diversity should be taken into consideration when choosing your B-School. Take a look at the people who study there from different states, interact with them, and try to understand how they are being treated.If B-School supports other cultures, then that probably volumes about themselves.
Student Life: You are not going to only be focused on studying during your course. You should be experiencing a proper student life. This means cultural activities, sporting events, inter school competitions etc. should play a big part in your student life. Therefore, it is very important to select a B-School with a thriving student life. When you visit any B-School, look around to see how colorful the student life is. Afterall, you don't want to end up in a dull and boring college, do you? Those are the 5 things you need to consider when choosing a B-School. Hope this helps you make the right choice towards a thriving career.